Climate Change – Coming Soon to a Faucet Near You
San Francisco has long been above the fray of California's water wars – both literally,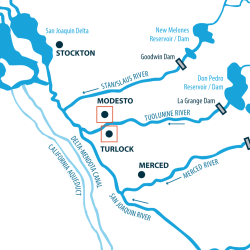 because Hetch Hetchy Reservoir sits at 4000' elevation, and figuratively, as the water conveyed from the reservoir does not go through the Delta and its messy politics. That's about to change
The construction of the federal and state water projects have resulted in the diversion of least half and sometimes up to 65% of the water that once flowed through the Delta and out the Golden Gate. The impact on California's unique biodiversity, particularly our iconic salmon runs, has been devastating.
In 2009, the State Legislature passed the Delta Reform Act, which made several changes in how the Delta was managed. Most significantly for San Francisco, it required the State Water Resources Control Board to develop instream flow needs for both the Delta and its tributaries in order to protect public trust uses.
In 2016, the Board turned its attention to the main tributaries of the San Joaquin River – the Stanislaus, Tuolumne and Merced Rivers. A 2010 science review recommended that 60% of the unimpaired flow remain in the river. Unfortunately, only 21% of Tuolumne River reaches the San Joaquin River currently, with senior water rights holders Modesto and Turlock irrigation districts joining the San Francisco Public Utilities Commission (SFPUC) in diverting from this river. Rather than adopt the scientists' recommendations, the Board chose to require restoration to just 40% of unimpaired flows, with options to lower diversion to 30% or raise them to 50% depending on how the river responds to the additional water and other management actions.
This requirement is easily met in wet years like this one, but could require significant releases from storage during dry years. The impact of this requirement on San Francisco's water supply is unclear because necessary water rights proceedings have yet to happen. However, water use for San Francisco and its wholesale agencies continues to drop and is expected to continue to be flat or lower, as water conservation projects and new supplies (like recycled water, stormwater capture and groundwater) are brought on line.
San Francisco is joining with Central Valley agricultural users to protest this proposal, claiming it will result in extreme water use restrictions in dry years. This may be a difficult claim to justify, given the continuing reduction in demand.
But a more important question is whether we should fight or accept this proposal. Isn't this kind of tradeoff inevitable? Climate change will decimate our Sierra snowpack and increase the water needs of our forests and fish. Californians – especially urban and ag users – will need to continue to reduce overall water use to sustain our natural systems. This will require changes in how we use and manage water. For San Francisco, which is dependent on the Tuolumne River for 85% of its supplies, the need is even more critical. Hetch Hetchy water may be the best in the world, but we need to start planning on having less of it.
~ Jennifer Clary