Yes on I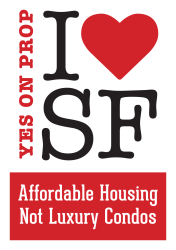 Gentrification is essentially the process of replacing the affordable with the unaffordable; it drives up the price of everything in the neighborhood, incentivizes property owners to raise rents, and destroys local blue-collar businesses.  It drives out a non-wealthy population and replaces it with a wealthy one, the modern version of 18th-century Enclosure Acts.
Our current government sheds a mock tear and tells us that "nothing can be done" about the wild-west building boom that is not only displacing people, but wiping out many of the businesses that used to make San Francisco fun and interesting.  Of course something can be done!  We are the city, the government belongs to us, and we do not have to let invaders turn the place into yet another sterile playground for the rich, many of whom will never even live here.
Capitalism has always had to be tempered with a bit of sense to make it viable.  We need to lay down the law that whatever else happens in the Mission, space must be retained for current residents, and for some of the non-wealthy people who actually work in our shops and hospitals and schools.  Prop I would impose an 18-month suspension of city permits for large-scale demolition and high-end development in the Mission, with a 12-month extension available via Supervisor vote.  The purpose of the moratorium is to develop a "Neighborhood Stabilization Plan" (and there are a lot of good ideas out there) by January 2017, that will ensure that at least 50% of all new development in the neighborhood is affordable to low, moderate, and middle-income households, with priority of occupancy given to current residents.
The first thing to do is stop digging the hole deeper.
— Jeff Whittington