Proposals for Presidio Parklands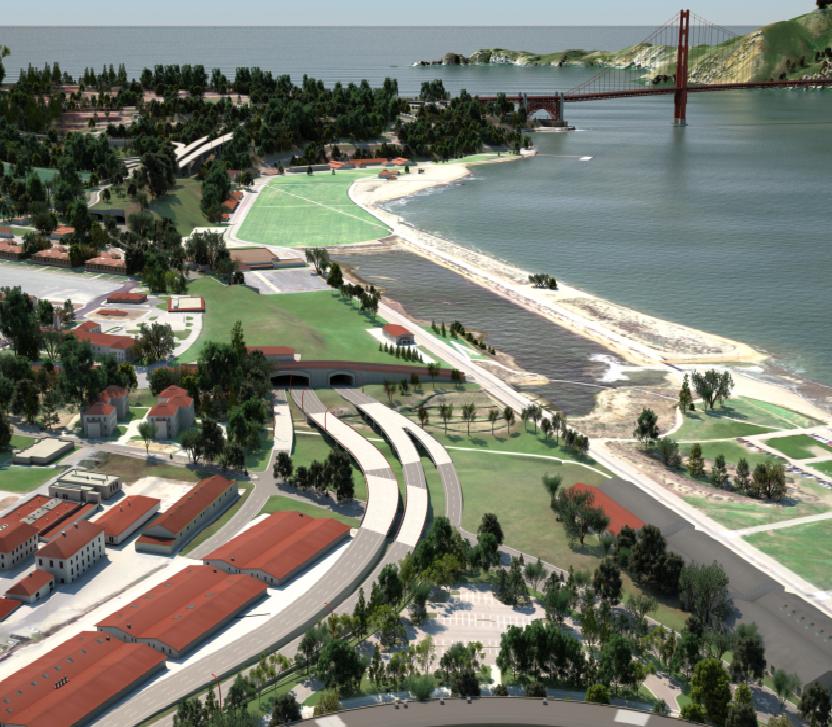 The new Doyle Drive construction of tunnels atop which a new land bridge will connect the Presidio's Main Post to Crissy Field will create spectacular new open space. Proposals have been received, and the currently popular design calls for a building on the bluff amid the open space plantings and paths.
There should be no building anywhere on the bluff. Building on the bluff would be an unnecessary obstruction to the flow of the landscape connection that has been opened up by the tunnels. The whole purpose of the tunnels creating a new land bridge would be compromised by a building of any kind on this broad vegetated swath linking the upper and the lower Presidio, especially a glass building! A glass building would be especially damaging, causing reflections and creating a hazard for birds that would fly into the reflections in the glass.
This site should be thought of as a grand passage. The passage should be made up of various landscape experiences, with paths that link and direct the natural movement from one place to another of bipeds and quadrupeds (animals at night!). The only shelter should be trees and large shrubs that make up discontinuous groves that are as naturalistic in their placement as possible. Acceptable might be a well designed set of open trellises to shade a curvilinear set of low benches that would allow for a rest beside the path.
Native plants should be used everywhere; they will survive the limits on watering. The California seasons should be respected and the natural grasses should be allowed to go golden brown in the summer, to be restored (we hope) by rain in the winter. The grasses and wildflowers should be California natives seeded in the Fall with water used only to get them started, if the drought continues into the late Fall.
Lands End is a terrific example of how a naturalistic, native plant landscape can be achieved in just a few seasons. The western end of Golden Gate Park has large plots of native shrubs only and they are thriving today even in this drought.
The Commissary Building continues to be an embarrassment, "another shoe to drop" when the Parklands are completed. I agree with the idea of demolishing the building and making the reuse of the Commissary site a part of the Parklands planning effort. There could be a much smaller structure here with a series of green roofs tied in to the Parklands.
Why have the proposals not picked up the long awaited dream of expanding Crissy Marsh?. There were no binding promises, but this was definitely a strong possibility; it would be a logical tie-in to plan the Crissy expansion at this time instead of ignoring it so that we have a patchwork as the planning effort for this part of the Presidio.
— Mary Anne Miller