Man for the Times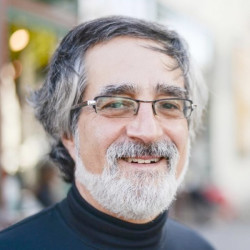 On March 30, former Board of Supervisors President Aaron Peskin announced that he would be seeking re-election to his old District 3 seat. A longtime environmental activist, Peskin led the renovation and expansion of a number of parks in his district, and in 2008 authored the Clean and Safe Parks bond, which set aside $185 million to improve park facilities. He also fought expansion of the airport into the bay.
Aaron early on gained a reputation for supporting housing affordability and opposing overdevelopment. In 2005 he led a successful campaign against the conversion of hundreds of residential hotel rooms into a handful of luxury condos, and later sponsored legislation to curb Ellis Act abuses. Needless to say, this kind of leadership is sorely needed in the city at this moment.
He is also a leader in the fight for public transit. In 2007, when Republican billionaire Don Fisher was trying to undo transit-first measures with Proposition H, Peskin countered with Prop A, which has guaranteed MUNI $30 million per year since 2008.
An indefatigable worker, Aaron authored and passed 205 ordinances when in office, making him the most prolific supervisor of his time. Progressives frustrated with an increasingly regressive Board of Supervisors and a local Democratic Party dominated by real estate interests should get behind his campaign, which has the potential to re-establish a progressive majority on the Board.
— Jeff Whittington