Bruce Balshone Obituary
From the Chronicle:
1947 – 2015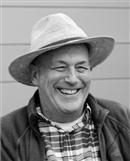 Bruce Lee BalshoneBalshone, Bruce Lee (67), passed away peacefully on April 7, 2015. Bruce was a fifth generation, native San Franciscan and long-time resident of the Bernal Heights neighborhood. He was born on August 13, 1947, to the late Leon and Dorothy Balshone. Bruce was known in the community for his work in city and transportation planning and lobbying. Early in his career, he worked as a planner for Brisbane and San Bruno, and later as interim Planning Director of East Palo Alto. Bruce started Pacific Resources Engineering & Planning in San Mateo County, which he led from 1992 until his death. His planning projects included development of the Brisbane Marina and protecting open space on San Bruno Mountain. He was one of the first to be involved with planning urban bicycle paths and co-authored a book on the topic. Bruce also covered San Mateo County politics as an online columnist for the S.F. Examiner. He served on boards and committees including the executive committee for the S.F. group of the Sierra Club Bay Chapter, San Francisco Tomorrow, Citizen Advisory Committee for the Transbay Redevelopment, and the Caltrain Electrification Committee.
Bruce graduated from Washington High School and attended the College of Marin. He received a B.S. in Sociology and a Masters in Landscape Architecture from the University of Oregon.
Bruce was an avid gardener, and enjoyed tending his bonsai and orchids. He also loved to travel and visited many countries. Bruce will be remembered for his great sense of humor and his enthusiasm for good conversation. He fought a determined and inspiring battle against his illness. He is survived by his domestic partner and companion, Karleen Tindall and her sons, Brent and Eric (Courtney); his sister, Beth Thurlow (Robert) and nephews Aaron (Noelle), Matthew (Meghan), and niece, Amy; cherished aunt and uncle, Barbara and John Greenberg; beloved cousins, Rick and Peter Meyerhoff and Vicki Smith; and many family and friends. A service to celebrate Bruce's life will be held at Congregation Emanu-El, 2 Lake Street, San Francisco, California, on Sunday, May 31 at 11:30 a.m. Donations in Bruce's honor can be made to Development Specialist, Sutter Care at Home, 2855 Telegraph Ave., Berkeley, CA 94705 or Colon Cancer Alliance,
http://support.ccalliance.org/goto/brucebalshone
.
Published in San Francisco Chronicle on Apr. 26, 2015