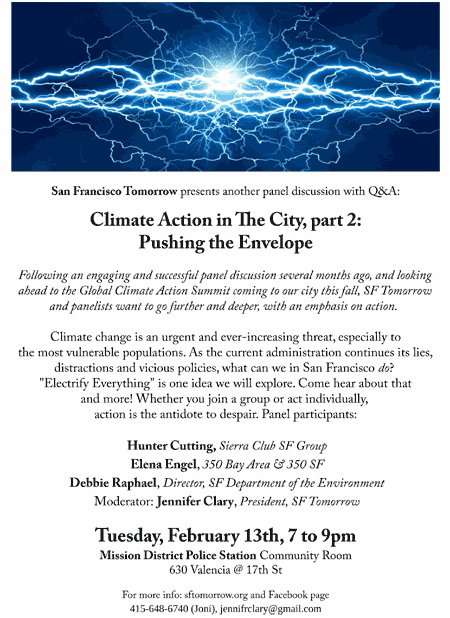 Click here for larger version.
Click here to RSVP.
---

Forest Hill Clubhouse, Wed, December 13 at 5:30 p.m..
Please join us at this casual, welcoming event for food, drink, live chamber music by Neighborhood Performance Project, and a chance to chat with some of The City's most interesting people. Tickets: $35. Please send check to SFT at 351 Guerrero St, SF 94103 or call 415-585-9489 to rsvp.
---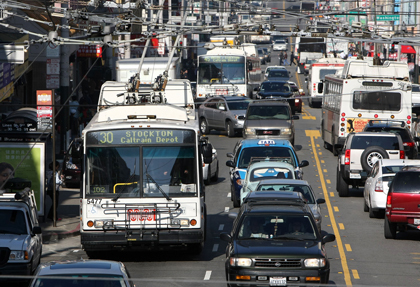 There is heightened concern in the City and County of San Francisco about global warming trends.  One possibility is for the City to re-assess its use of City-owned vehicles.  According to the Fleet Management Department, the vehicle fleet numbers a total of 1,586 vehicles, not including trucks and other mobile equipment. Of these, 252 are San Francisco Police Patrol Vehicles and none of those would be eliminated under the following proposal.
The City could save considerable amounts of money and also reduce pollution that causes global warming by eliminating the use of those vehicles sit idle in leased parking facilities.  For instance, social workers in the Department of Human Service visit clients but not before making an appointment.  The same holds true for visiting nurses.
Use of automobiles in some city departments is minimal.  The City could purchase vans for these departments to use as shuttles and hire drivers, eliminating car use altogether for certain workers.  A shuttle van could drive six to eight of these workers to their appointment sites when they are generally in the same geographic area.  Each worker would have a cell phone to use when ready to be picked up.  This would lessen the burden on those employees having to find parking and in some cases, increase their personal safety.  Other options would be for some workers to use commercial taxi services.
---

San Francisco's parks and recreation space needs are constantly increasing with the growing population.  One weekend at Dolores Park or Golden Gate Park, a visit to Stern Grove, the Presidio, Marina Green, or Ocean Beach, will quickly show how our heavily used green-ways and open areas need constant maintenance and care.  Increased population has major impacts, and overuse may drastically affect the natural areas remaining; serious planning and effective controls are needed along with major infrastructure changes.  SPUR hosted a discussion session with the SF Recreation and Parks Department recently to discuss the future of the second-largest recreational space in San Francisco, after Golden Gate Park and the Presidio: McLaren Park.
This meeting was noted in a SF Streetsblog article follow-up published by Roger Rudick on July 13, 2017. What was missing from the general summary, however, were the more pointed comments about how people moving to and working and living in the city and surrounding bi-county areas access this public park gem.
With all the major developments occurring in the D7/D10/D11 neighborhoods of San Francisco, including the bi-county Brisbane development, Sunnydale Hope SF, and Bay View / Candlestick and Excelsior, a larger population will be trying to get to these areas.
Public transit access becomes a key need to fend off the negative auto impacts of density on McLaren Park's natural spaces.  The problem stems from trying to protect and preserve the wilderness areas of McLaren Park while "programming" improvements through the expenditure of bond money.  The prior Parks Bond generated a stated $12 million for McLaren Park.  The McLaren Park Collaborative and other organizations have been hard at work trying to make sure that the money, including unspent prior monies, is used in areas and methods that support their collective park wisdom and their outreach to the community members.
---
SFT's September climate panel was a great success. Moderated for an overflow crowd by Berniecrat Claire Lau, participants included SF Environment Director Debbie Raphael, 350SF volunteer David Shearn, and Sierra Club's Sue Vaughan.
Debbie Raphael came equipped with slides to graphically illustrate San Francisco's climate goals and our path toward achieving them. The main current target is to be in compliance with the Paris accord with 40% emissions reductions (over the standard 1990 benchmark) by 2025, and 80% by 2050.
How are we doing? Since 1990, the population has risen 19.5% and GDP by 78%, while emissions have actually fallen by 28%. This exceeds the city's 2017 goal of 25% reduction, and has largely been achieved via a cleaner grid and more and greener transit.
---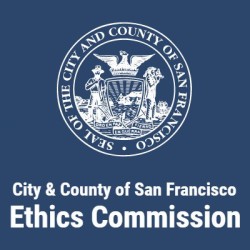 After more than a decade of backing away from the issue of corruption and the practice of pay-to-play, the San Francisco Ethics Commission is taking important steps, including legislation, that promise new transparency and accountability for City Hall deal-making.
On August 28, the Ethics Commission unanimously recommended prohibiting commissioners from voting if they have not filed their Statement of Economic Interest. That lets the public know about potential conflicts of interest. Some commissioners ignore the deadline for months, keeping the public in the dark about any investments or ownership that may present a conflict. Now this would take away their ability to vote until they comply with the law.
---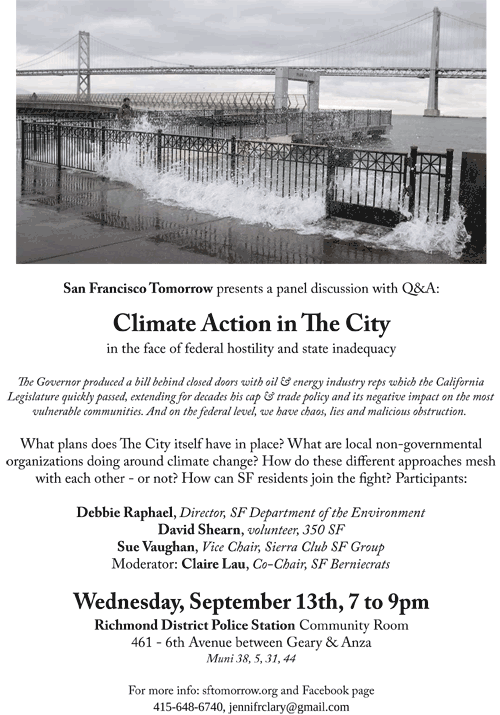 ---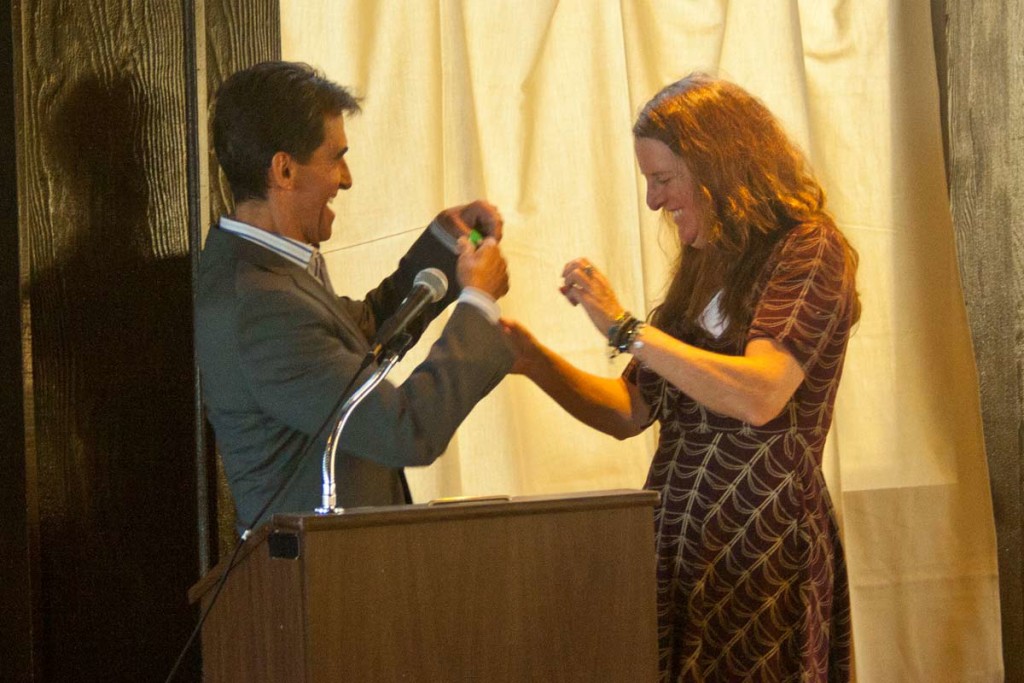 After more than 30 years and many millions of tax dollars, San Francisco has not made a dent in the homeless problem.  In fact, the lack of housing for thousands of San Franciscans continues to worsen.  But this has not deterred some of our compassionate citizens from attempting to rectify the problem.  The three honors recipients at San Francisco Tomorrow's annual awards dinner provide a shining example.
Unsung Heroes
DONIECE SANDOVAL of Lava Mae was awarded the Unsung Hero recognition for her unique approach to helping homeless people bathe.
After pondering the idea for three years, Doniece was ultimately able to obtain collaboration from City Hall and various non-profits to convert transportation buses into mobile showers and toilets.  At present, 50,000 showers are being provided per year in the city.  The idea has caught on globally as a model to provide comfort and dignity to marginalized populations.
Speaking at the dinner, Doniece acknowledged that her idea will not solve the homeless problem by itself, but said it provides a first step to moving forward and helping people re-integrate with society.  Thanking the many incredible partners who helped bring this idea to fruition, she invited the public to witness this ongoing effort to provide not only showers but also haircuts, medical and dental care, and food, at an exhibition that took place on August 27 at the Main Public Library.
AMY FARAH WEISS is one of the newest stars in the firmament of San Francisco politics.  She ran for Mayor as an unknown in 2015 with a $15, 000 war chest and garnered 12.1% (23,000 votes) of the total votes cast.  Her focus on the homeless situation is in good measure a continuation of her 2015 platform.  She believes we should treat  displacement and housing affordability as the crisis it truly is.
---
Click here for full-sized invitation.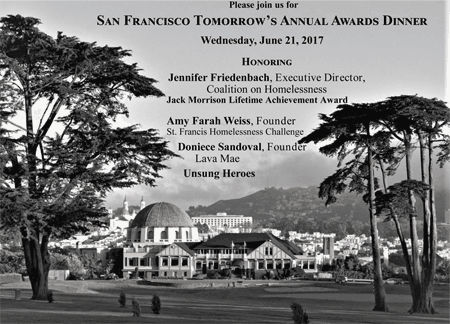 ---
Over the past two decades, the 1,500-acre Presidio of San Francisco has emerged as a great national park transformed from a military post.  As the new Doyle Drive makes its way to the Golden Gate Bridge and the elevated road passes through the Presidio, you have probably noticed that new concrete tunnels have been constructed.  You may have thought: tunnels through what?  There is no massive mountain that the tunnels pass through – right now they are coursing through air!  But wait a few more months and the Presidio Tunnel Tops will be landscaped so that you can walk across from the historic Main Post area and the grassy Main Parade to Crissy Field.  The Presidio Tunnel Tops will have turf and trails and plants growing out of tons of soil that will be transported there.
---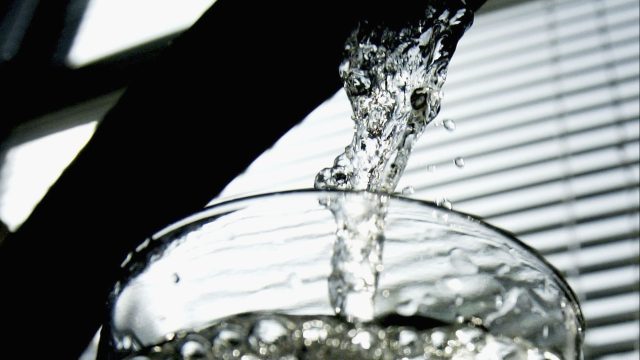 Soon, San Francisco's pristine water will be blended with groundwater.  The program is called the San Francisco Groundwater Supply Project and is part of the San Francisco Public Utility Commission's (SFPUC) effort to develop numerous water supply alternatives to reduce dependence on the Tuolumne River.
Those who support this project believe having San Francisco dependent on one source for 85% of its water leaves us vulnerable to extremes in climate change.   Those against blending fear it will negatively affect the water responsible for the good taste of many of our local foods and beverages in San Francisco, including sourdough bread, beer, and coffee.
---

San Francisco Tomorrow has long supported the Natural Areas Management Plan (NAMP) which San Francisco's Recreation and Parks Department (RPD) has proposed for the management of 32 natural areas in San Francisco.  Unfortunately, in 2014 RPD decided to include the redevelopment of Sharp Park Golf Course in Pacifica in the EIR for the NAMP, allowing them to shorten the public hearing and review process for the project.  SFT was among several groups, including the Sierra Club, Golden Gate Audubon and the Wild Equity Institute, who protested its inclusion.  The same groups opposed the certification of the Final Environmental Impact Report (FEIR) before the Planning Commission in December and appealed the certification to the Board of Supervisors, where it was heard on February 28.  SFT did not join the appeal but wrote the following in a letter to the Supervisors:
"I am writing to request that you vote on Tuesday to remove the Sharp Park Golf Course redevelopment project from the Environmental Impact Report for the Significant Natural Areas Management Program. This multi-million dollar development project has been inappropriately inserted into what has for more than a decade been a basic program for managing the City's natural resources.
---