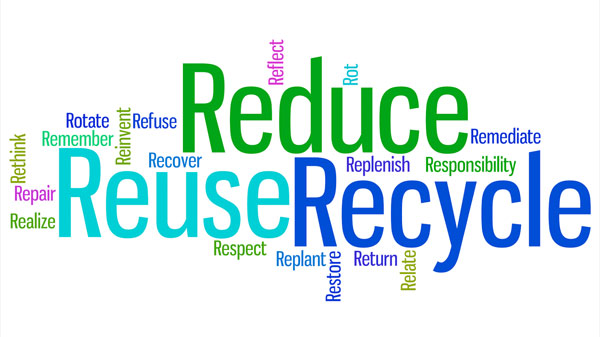 When I worked for the San Francisco Department of Social Services my boss suggested I go to a seminar on recycling. At the seminar, I mentioned to a man I was having coffee with that this kind of event would not be necessary if we did not have companies foisting on us all the stuff that needed to be recycled. Without comment, he subsequently mounted the stage and began to tall us the importance of recycling with hints on how to accomplish it. It turned out he was a spokesperson for manufacturers of plastic and other packaging material.
I still recycle. However, now I am wise enough to know that recycling is definitely not the whole answer. Recycling puts the burden on the purchaser to figure out how to dispose of the waste. It thus leaves the manufacturers of packaging free to come up with even more over packaging. For instance, at Senior Lunch Centers, Seniors were given cartons of milk. The cartons were compostable. Now the same Seniors are given miniature plastic bottles of milk. These require recycling and that adds to the cost of the milk, both to our pocketbooks and the environment.
---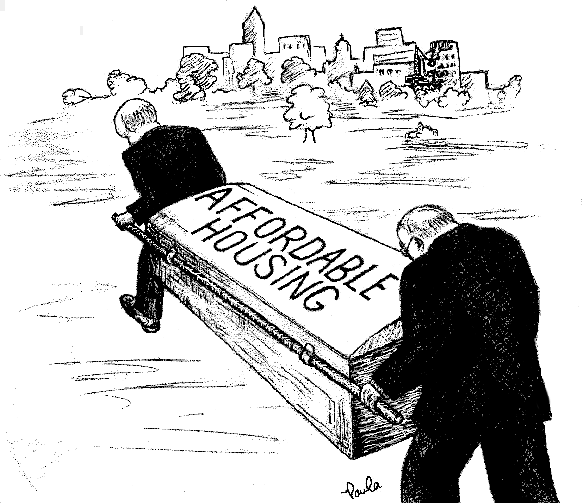 Image source: Arise for Social Justice
Two major reasons for the destructive inflation besetting our City are being effectively ignored.  First, San Francisco properties have become pawns in the global economy.  We are a piggy bank for cheap, mostly offshore speculative money.  Secondly, the city has pushed beyond its holding capacity for infrastructure and geotechnical risks.  This raises costs and reduces sustainability.
How can the leadership of this City meaningfully address these problems?
So far, what's been proposed are mostly palliatives and placebos: requiring a higher percentage of inclusionary housing (over 25% vs. 12%) and giving density (and height) bonuses for building additional affordable units.  The gains from inclusionary housing targets are paltry, inflationary, & often not even being built.  Increasing supply of primarily midrise to high-rise housing benefits mostly affluent tenants and buyers and furthers the inexorable upward push of inflation.
Planning policies also ignore, at peril to our population, fundamental seismic and climatic constraints to growth and the need to improve the safety of existing structures.
The city cannot continue to grant cheap paper rights to build in some politically promised future.    We urgently need to go deeper and address both "bad" money and safety/sustainability issues:
---

First, the bad news.
In March, the petition drive to place the Voters Right to Know Act (VRTK) – intended to address systemic issues in California's campaign finance and disclosure laws – on the November 2016 ballot was suspended. Jim Heerwagen, proponent/funder who was paying petition circulators to collect most of the signatures (700,000), was unable to secure the additional funds he had been counting on to match his own contribution. He had collected about 200,000 paid signatures, and volunteers like you and me had collected about 15,000.
Now, the good news.
---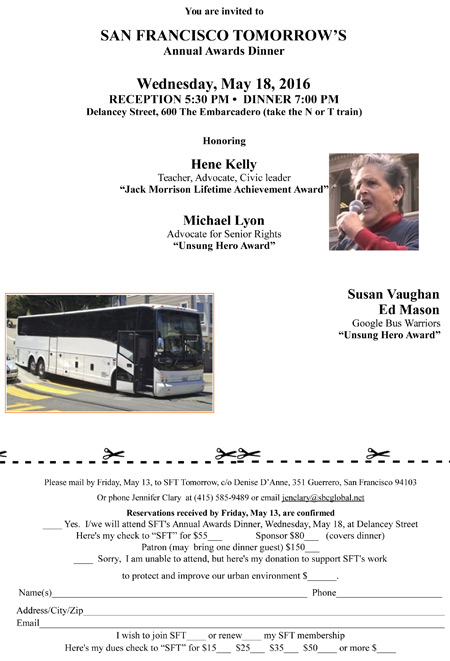 ---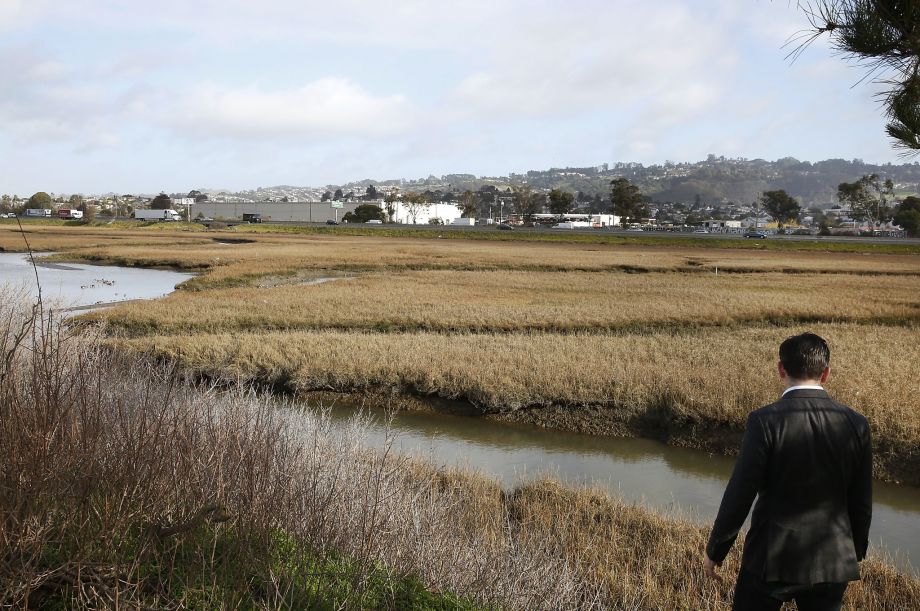 Photo: Leah Millis, The Chronicle
Measure AA will provide desperately needed funds for the restoration of wetland habitat around San Francisco Bay.
Too often our votes seem to be making the best of not so great alternatives, either people or ballot measures. But Measure AA is all about doing something that will actually help preserve us, our Bay and the fish and wildlife that depend upon it.
The Bay has lost over 80% of its historic wetlands. These wetlands are the base of the aquatic food chain. 70% of our commercial fish depend upon wetlands at some time in their life cycle. Wetlands clean our water absorbing and even altering polluting chemicals. And wetlands help reduce the impact of floods because wetland vegetation absorbs a lot of the wave energy thus slowing water movement. You might remember that most of the damage Hurricane Katrina caused was the result of the loss of Gulf coast wetlands that would otherwise have reduced the flooding impacts.
Climate change is upon us, as is sea level rise. Tidal marshes are now seen as one of our best tools to address these threats and to keep our communities safe from the rising waters.
Wetland restoration is expensive; funding is hard to find. Your vote will make a difference. Your Yes vote on Measure AA delivers essential money for the restoration of our lost wetlands and will result in a healthier and safer Bay.
— Arthur Feinstein
---
Keep control over our Parks and Recreation!

Déjà vu all over again
Are you willing to give up all outside control on how the Department of Recreation and Park spends its money?  You will, if you vote to support Proposition B on the June ballot.
Of course, Rec and Park needs funding, as does every other city department.  But even though Proposition B  provides a guaranteed flow of funds to Rec and Park,  it comes at a high cost to the public — the City loses the ability to give that money to departments that may desperately need it and you lose the little say you have now in how Rec and Park spends its money.
How is Rec and Park funded now?
Rec and Park currently gets funding from various sources, including appropriations from the discretionary funds in the General Fund.  The pool of discretionary funds is also used to fund non-enterprise departments such as the Department of Children, Youth, and Families.   During the yearly budget process, the Board of Supervisors decides who gets what percent of those discretionary funds.
---
Proposition B – Open Space set-aside – No
Proposition D – OCC review of police shootings – Yes
Proposition E –  Paid sick leave revision – Yes
Proposition AA – Bay Restoration Fund – Yes
Supervisor, District 3 – Aaron Peskin
---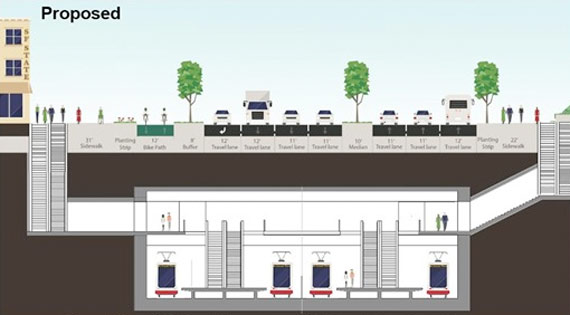 The most recent reconfiguration of the M streetcar plan, presented in February, is a great improvement over the elevated solution that preceded it.  With the M and K streetcars now going underground, congestion is relieved at both the Ocean Avenue and terrible St. Francis Circle crossings.  The 19th Avenue crossing near Stonestown is eliminated, as is the one at 19th and Serra; after travelling underground all the way from West Portal, the line would finally make grade at Randolph, where the road widens.  Additionally, the new configuration would feature two tracks in each direction, instead of the current single track.
Where the new M streetcar fails
Unfortunately, the new configuration ends the M line at Parkmerced, where passengers must transfer to a J train for the Oceanview district.  Besides this strange inconvenience, service into Oceanview is likely to deteriorate, since it is a less well-connected neighborhood politically.  Both new configurations eliminate the current stop at the Senior Center at Temple Methodist Church.  Seniors and handicapped persons who have depended on the Beverly Street stop for decades will now have to find a way to another stop; this is something the neighborhood should fight.  Removal of the current Lakeside stop, an option in the plan, could have a dramatic effect on the businesses there.
Why the new M streetcar line is better
In my opinion, this underground solution was necessary because the 18,000 new residents of Parkmerced would be poorly served by the previous transportation plan.  It provided no solution for the St Francis Circle congestion which is probably the biggest hiccup on both the M and K lines.  The dual lines in each direction will certainly speed things up, and will perhaps spur similar changes in the tunnel itself.
---
Regarding "Ambitious BART let nuts, bolts go ignored" (March 20): San Francisco's Municipal Transportation Agency did even worse, cutting Muni service throughout the city while taking $1.12 billion of state and local matching funds for the Central Subway. The Central Subway is inefficient and irresponsible when higher priorities go begging, like five-car trains in Muni Metro, Caltrain's extension to downtown, bus rapid networks and state-of-the-art transit to the western neighborhoods. Any $2 billion northern subway will take $1 billion more of state and local matching funds for a one-mile route that hurts Muni's other 500 miles of transit lines. The Central Subway is a real estate scheme, not a citywide transit solution. Pro-development lobbyists covet the lush properties of the northeast quadrant at the expense of the overall Muni system. Stop eliminating bus lines, shortening routes and cutting service in other neighborhoods.
Howard Wong, San Francisco
---

Why is this being built?
Despite San Francisco's housing crisis, a faltering Muni, increasingly clogged streets and the homeless problem, SPUR. a local planning group, says that "things in San Francisco are going well." We are advised to let City Hall keep on bringing in more tall buildings, more transit, more jobs and more people because "it's going to be OK."
Really? Let's take transit for instance. The most important transit expansion to come along in over half a century is the long-awaited downtown extension of Caltrain (DTX). DTX consists of a 1.3 mile long tunnel from the existing 4th and King St. terminal of the 78-mile long Caltrain line to San Francisco's new Transbay Transit Center (TTC) at First and Mission. When completed, the new connection will attract tens of thousands of Peninsula and San Francisco motorists from car to train. So, one might ask, what is City Hall doing to advance DTX?
So far as we can determine, nothing.
---

Every ad for or against a ballot measure or candidate clearly disclosing the top three actual donors of $50K or more on the ad itself – not just a misleading committee name.
Enhanced collection and accessibility of campaign finance data through the Secretary of State's website.
The banning of gifts from lobbyists and their clients.
A waiting period of two years before elected officials can accept revolving-door job offers to become lobbyists.
A citizen's right to campaign finance disclosure written into the California State Constitution.
These are some of the reforms in store for California if the Voters Right to Know Act, now being circulated as an initiative on a petition, becomes law.
You probably know the damage that's been done to our democracy since the Supreme Court's infamous Citizens United decision equating money with speech: billionaires and other moneyed interests spending unlimited amounts – most of it hidden, so-called "dark money" – to pass or defeat ballot measures and buy elections.
No matter which issue you care about – environment, health care, education, gun violence, food and water safety, workers' rights, civil rights, fair taxes and regulations – your voice is being drowned out by the roar of dark money. A constitutional amendment overturning Citizens United could take years, but we can stop hidden spending now.
---
Our iconic, coherent U.S. Constitution was written on four sheets of parchment, listing our obligations and responsibilities for governance.  Counting the Preamble and all 27 Amendments, our Constitution comes to 20 typed pages.  The First Amendment alone covers a multitude of freedoms: religion, press, assembly, speech, and the right to petition the government.  This amendment is all of 45 words.  In contrast, our Affordable Health Care bill has 2,032 pages.
The proposed Trans Pacific Partnership (TPP) beats all with 6,000 pages.  The TPP is less a trade agreement than a handover of every aspect of our civic life to the control of various U.S. trading partners, foreign corporations, and multinational U.S. businesses.
This agreement can give corporations the ability to shred our Constitution at will.  This agreement would violate protections offered to citizens by important articles of the Constitution.  For example, Article III, which established the judicial branch of the U.S. government, assigns its powers and established the right of trial by jury.  The TPP puts judicial decisions in the hands of an international panel of arbitrators whose decisions could not be challenged in U.S. courts.
---