SAN FRANCISCO TOMORROW HOLDS THREE FUNDRAISERS A YEAR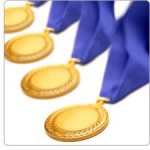 ANNUAL AWARDS DINNER – MAY
The Awards dinner has been held at Castagnola's Restaurant on Fishermans' Wharf for the past several years.
At this event we award one Lifetime Achievement Award to an individual who has, over time, made a significant contribution to the improvement of San Francisco's urban environment . Additionally, we award two or more Unsung Hero Awards to individuals who have made substantive but largely unrecognized contributions to the betterment of the San Francisco urban environment either through their profession or through volunteer efforts.
The Picnic is held someplace of interest in San Francisco where substantive change is about to occur.
"Experts" on a given project's location are invited to provide walks and talks for members and attendees to help define proposed changes. Some of the places we have picnicked recently include Candlestick Point State Park to review Lennar's BVHP housing project and its diminishing effect on the State Park; Lake Merced where we could then access nearby Park Merced property to review plans for the loss of and the subsequent rebuild of rent-controlled housing; and Pier 23 Restaurant which is adjacent to Pier 27 , the Pier slated to become America's Cup Village in 2013 and then turned into the long awaited Cruise Ship Terminal.
HOLIDAY PARTY – Second Wednesday in DECEMBER
For many years, the historic Forest Hills Community Center has been the location for our popular Holiday Party. The modest price of admission includes buffet appetizers, dinner and dessert. A no-host bar serves soft drinks as well as a choice of wine.
The unquestioned stars of this party are our State and City elected officials, local grassroots organizers, activists of all stripes and the media who arrive throughout the evening to schmooze, have a toast and leave us with inspiring thoughts about the plethora of challenges and opportunities for the coming new year.