What's up at Ethics?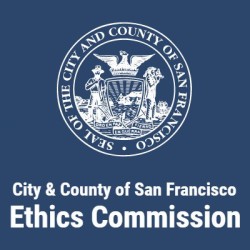 After more than a decade of backing away from the issue of corruption and the practice of pay-to-play, the San Francisco Ethics Commission is taking important steps, including legislation, that promise new transparency and accountability for City Hall deal-making.
On August 28, the Ethics Commission unanimously recommended prohibiting commissioners from voting if they have not filed their Statement of Economic Interest. That lets the public know about potential conflicts of interest. Some commissioners ignore the deadline for months, keeping the public in the dark about any investments or ownership that may present a conflict. Now this would take away their ability to vote until they comply with the law.
The Commission next expects to vote on its most far-reaching reform at its September 25 meeting. Currently city contractors may not contribute to officials who decide on their contracts. The Commission will decide to apply that same policy to developers and others seeking land use approvals from city officials. The same policy will be considered for others seeking a city benefit and who contribute to the officials who decide on their application. Records show millions are donated to candidates and the ballot measures they want passed, and the money crowds out the voice and votes of citizens.
Did you know that our elected officials could ask for contributions to their favored purposes, or even to programs run out of their offices? Over $10 million came at the "behest" of elected city leaders over the past two years to pay for improvements to the office furniture, to a City Hall party to celebrate the City Hall Centennial, and to pay for the mayor to host a conference of mayors.
The record shows that none of the "behested payments" went for affordable housing, human services, or the most basic needs where money often falls short. In some cases, it came in checks for $1 million or more. One notable exception was three billionaires who contributed a total of about $3 million to Hamilton Family Services, but that's the only exception. The basic fact is that all such contributions are welcome but having the same city officials ask for the money while being lobbied to approve the private interests of the donors opens the way to undue influence in deciding those requests. The public needs to see that any collusion is off limits and out of bounds.
This broad proposal also would adopt a Los Angeles law that prohibits commissioners from fundraising for elected officials and candidates. More than $1 million was raised by commissioners for the mayor, board members and ballot measures they wanted in the last election. Raising money for officials with the power to appoint you are the heart of pay-to-play politics. A second Los Angeles law also will be considered for San Francisco that makes it possible for citizens to file suit against violators when city officials don't act. The same law exists at the state level.
The Ethics Commission also will increase transparency on money donated to campaigns, especially the last-minute contributions that otherwise aren't disclosed until months after the election has passed. It will add funding for a stronger electronic reporting that any person can search.
More is needed, and no law or laws will replace the vigilance of citizens who care that government is ethical, fair to all, without prejudice and without favoring donors and backers over the public interest. We can do what Washington won't and self-interested politicians at every level refuse to do.
~~ Larry Bush