Transit Planning for the future of San Francisco
Can we get the horse in front of the cart?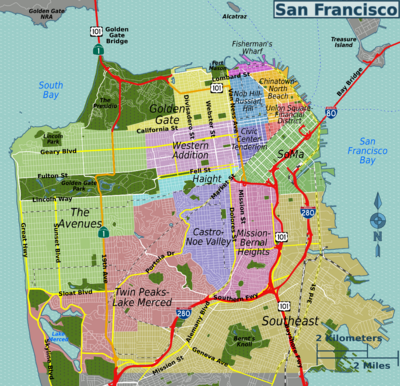 We all are aware of the TEP Muni Transit "effectiveness" project, or "ineffectiveness" as many MUNI riders often chide due to cuts in station stops and effects on routes, and the recent discussions on transit costs of such projects as the central subway, and downtown DTX station extension, and the overall impacts of the housing build-out in San Francisco. Supervisor Scott Wiener even jumped on the transit needs bandwagon stating we need to fulfill the destiny of SF's transit future by tunneling around the entire city, most likely on the heels of the central subway financial burden's by extending it around to the proposed fisherman's wharf final end. The question that arises, when we see the plans and proposals, costs, and political failure to enforce taxation of growth to build our future transit, is whether the proposed systems being showcased really do justice and solve our urban stopped up transit systems?
I would like you for a moment to think outside of the basic lines and routes in SF, and digest the comment submitted by Howard Wong (SFT Board Member and Save Muni representative), when he stated in a response to the Examiner for such a small city, we should have a "world-class" transit system.
The terminology system denotes a natural or mechanical complete loop, or body, that encompasses and provides a distinct benefit. The problem is that when you look at our existing system of SF Muni transit it is like the body and tentacles of an octopus, without real connectivity, looping, and linkage of existing systems. Most train yards have built into them the concepts of switches, gears, shifting, looping, and system theory, since you don't want to have to turn locomotives around, and it is preferential to loop, or provide figure "8's" or similar closed loop systems that can provide switching and improved capacity of a system.
I recently attended the Bayshore Intermodal Facility Final Report meeting which presented on boards the future proposed options being studied on the south-east transit areas of SF. This plan proposes to provide bi-county improvement, and possible intermodal facility connection between High-Speed Rail (HSR), Caltrains, and SFMuni services, with a possible Bus Rapid Transit linkage up Geneva-Harney to the Balboa Park Station and additional densities proposed in the D7, D11, and D10 districts where numerous large scale projects are proposed. Yet what was distinctly missing from the presentations was an understanding of capacity, and the need to get such ideas as Light-Rail Vehicle connectivity and systems looping and linkage into the actual final decisions and planning up front. Initially the Geneva Harney project plans did not even include the HOPE SF Sunnydale project, which as a lower income community would directly benefit from easier access to intermodal transit facilities. Otherwise, the cumulative impacts of the Alice Griffith, Hunter's View, Potrero and Schlage Lock Factory projects alongside Brisbane development on the South-East sector, Balboa Park Upper Yard and Balboa Park Reservoir Site, and the 19th Avenue Transit Study, and Parkmerced/SFSU-CSU/Stonestown future projects, all create huge demand for improved transit outside of the downtown areas based solely on number of people proposed to live in these future communities.
What is directly needed is a view of the transit system planning in SF, that looks at more creative linking and looping of systems to provide and increase capacity sooner due to the increased housing density being proposed. Such system improvements would include getting the Geneva Harney installed as an LRV (light-rail vehicle) system and looping it directly at grade around to the future candlestick shopping mall, and around the BVHP back up possibly Cargo Way to the future Pier 70 and other waterfront developments and get people out of their cars. This connection would continue up westward to Balboa Park Station, and provide impetus for a secondary intermodal facility that would better connect transit between the K-T and M-J lines at the Geneva Car-Barn and Green Street Facility to link and loop existing lines for quicker and more efficient turn-around and a closed loop system. Another possible link would be the L-Taraval back up Sloat Blvd. to Stern Grove, turning southbound on 20th underground, and linking back up to 19th just at the roadway by the Petco/Stonestown YMCA Annex across from Mercy H.S. to get it to an aireal platform out towards Daly City BART and a new intermodal west side transit facility, that could help alleviate west-side transit congestion with the South-West build-out occurring and a still unknown Stonestown site possible development. There is also the idea of a western-side transit improvement by BART or MUNI on geary, via a switch to BRT or LRV lines that could connect north to south the Presidio via the F-Line through Fort Funston, southward back around along Geary or Fulton to Sunset Blvd. and the eventual looping of SF via public transit systems! Lastly there is the concept of BRT on Van-Ness which for some reason unknown ends before it begins, and does not extend the entire route out to the Excelsior, and provide through the Mission better and speedier access to east-west transit routes along the major spine of the city. With recent changes proposed to the Excelsior as a PDA (Priority Development) designation like the mission, it only is logical to skip the BRT, and focus on the LRV possible above ground or at grade need for quicker transit across the city. Even if we do focus on BRT solutions due to cost, than we should at least ponder double-door bus systems to improve along these BRT routes the speed in boarding times due to reduced wheel-base access when boarding our new fleet bus systems.
The concern is the need to think logically in terms of connecting the dots of transit modal areas, in the same way as a switch or closed loop system, with built in flexibility to provide secondary connectivity to other lines and systems. Only in this way can we provide the city and its citizens with a world-class transit system that provides the bandwidth and flexibility needed for a dense and growing urban metropolis. AdequateTaxation is only one of the needed parts of the proposal, the other is a mind-set to connect the dots now, and not later, so that we get the traffic and transit systems built now to provide us with a real transit future.
| | |
| --- | --- |
| | |
| Closed Loop System | Switch/Shift 6-speed (imagine the 1 as sunset, 3 as inner Richmond, 5 as downtown, R as cross bay, 2 as Daly City BART, 4 as Balboa Bart, 6 as Bayshore Intermodal).  Now overlay and connect 1-3-5-R and 2-4-6-R and you have closed system by linking and connecting the dots. |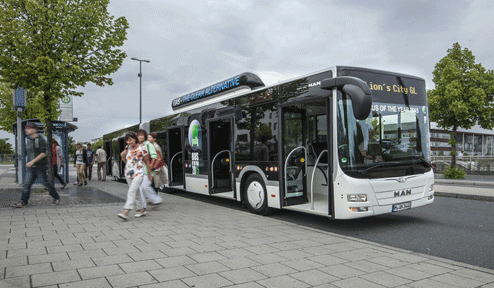 5-Door access bus design, provides easier on/off boarding quicker and would solve slowness due to congestion at boarding and ticket-payment locations on vehicles and ease the access for disabled riders competing for access at the front of the bus.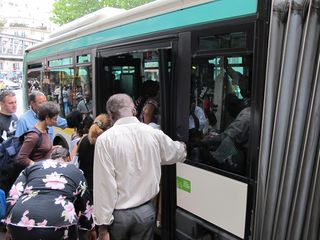 The problem with single door boarding is getting off while others are getting, on. With disabled passengers added to the mix, and increased age concerns for many residents needing public transit, this is becoming a critical problem with existing bus services. BRT will not solve the slow-boarding times, unless along BRT routes they transition the systems to double door, or larger door vehicles.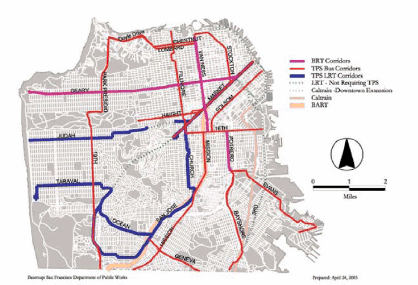 Proposed BRT and corridors of transit. Note the lacking links in the SE bi-county (the map is cut and lacks the interconnection between SW to SE portions of SF from Parkmerced out to the D10 district along Ocean or Geneva. Also there is a lacking link along sunset blvd. to connect Geary to Judah and Taraval as an improved west-side transit system to Daly City BART.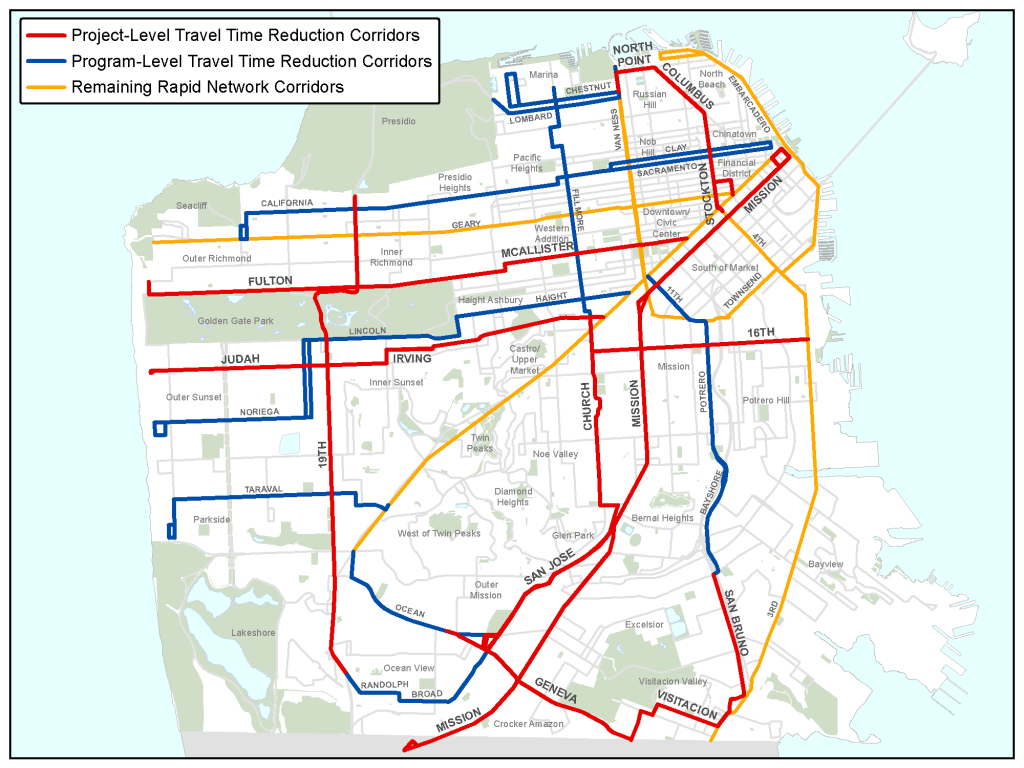 Travel Time Reduction Corridors (most investment is downtown, only the Geary BRT, Van Ness BRT and Geneva Harney BRT, along with BRT Parkmerced areas is really being considered, and no proposed transit light-rail corrective planning is proposed or in place.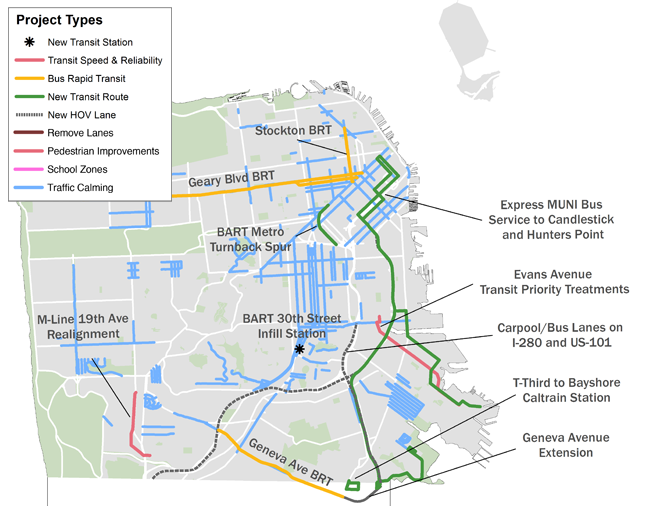 Note the proposed Evans Ave and 19th Ave proposed projects, related to specific density projects but lacking the real west-side and south-east side transit reconnection along Geneva and out to the BVHP.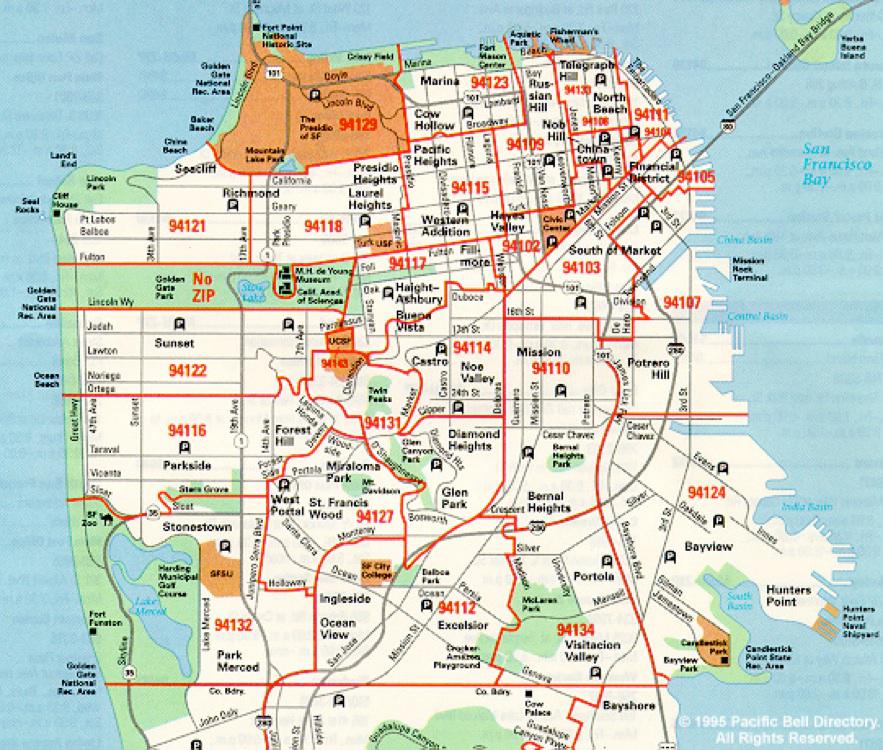 Zip codes also tell another layer of bi-county and south side need as zip codes 94132, 94112, and 94134, and 94124 block and provide the major north-south and east west routes via vehicle currently in the southern portion of SF, and have a tremendous amount of density going into their zip codes in the next phases of pipeline developments in SF.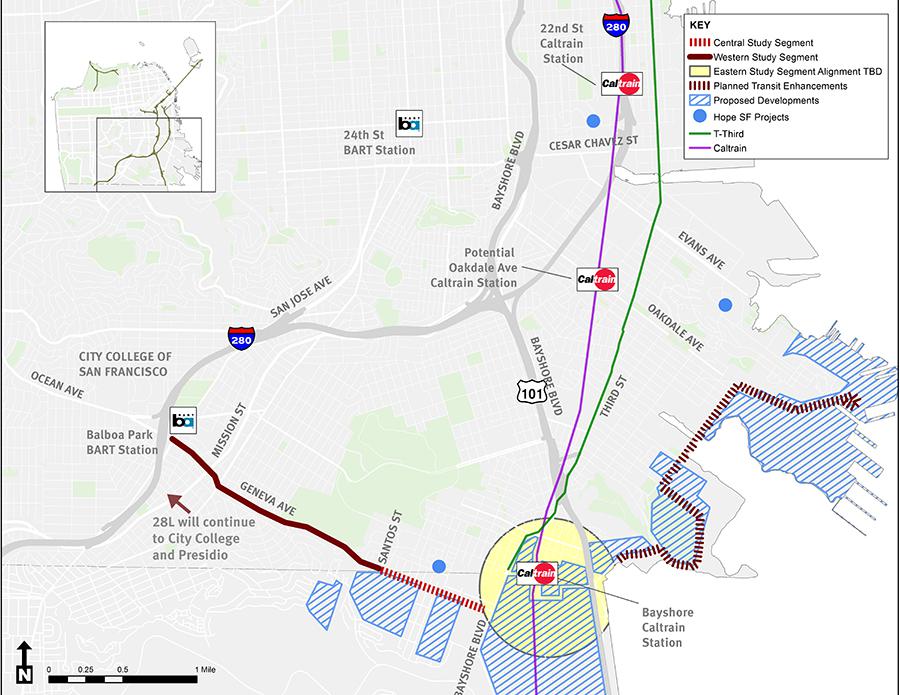 Initial Geneva Harney proposed diagrams missing the Sunnydale, Balboa Reservoir, and Upper Yard Sites which will heavily congest Geneva Ave with BRT Buses and cause more congestion along the BVHP and T-Third as commuter shuttles navigate the 101 Congestion and new proposed development at the Bayshore Caltrains and BVHP sites.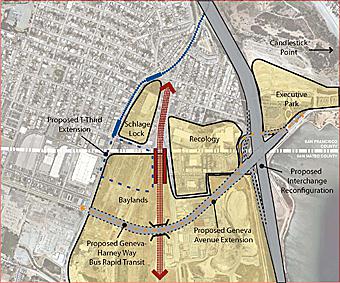 Bayshore Intermodal site, shows a loop (dashed-blue) but does not show the T-Third taken back up Geneva-Harney with only a shorter extension southbound the loop could allow trains to continue east and west-bound.
The already congested high-speed boulevard bi-county is a cross-cut-route for traffic from 19th Ave/Ocean Ave to 280 and 101. It has become a raceway, and will eventually densify along possibly with the Cow-Palace and Brisbane and SF and Daly City Parcels.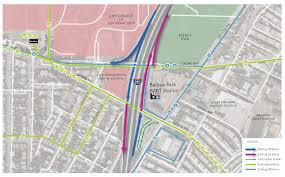 Balboa Reservoir, and City College Masterplan, along with the Upper Yards site, and Geneva Car-Barn already is an overly congested area, needing transit improvement and a possible intermodal facility to link systems, along with new business, and office density along with housing. The Excelsior is also proposed as a PDA, so density and increased housing development in the outer mission and Excelsior is coming sooner not later. Would it not be smart to work into the Balboa Station an improved access and transit connectivity for the Geneva Harney route to get directly to BART?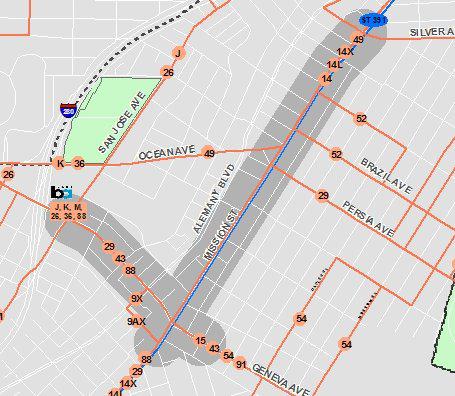 Density increases proposed along the Excelsior and existing Muni Lines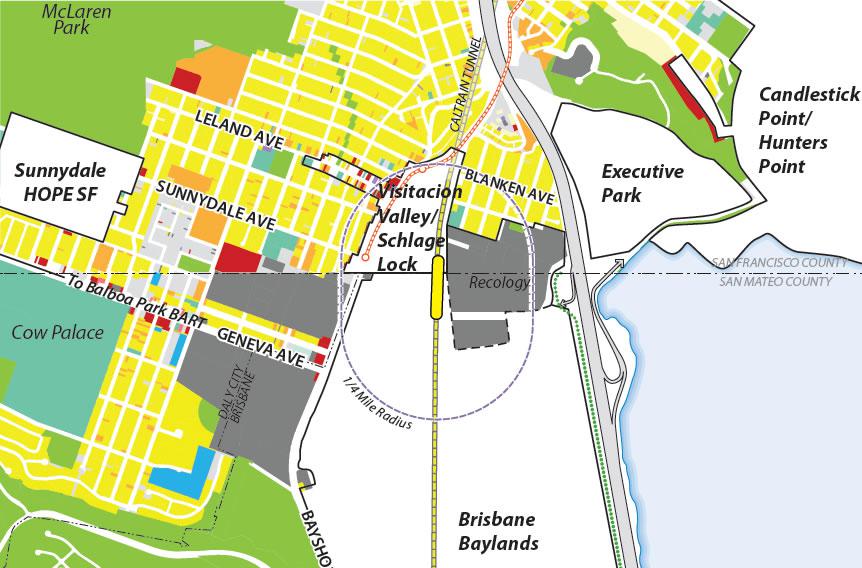 Bayshore Caltrains Proposal, showing areas of development (Executive Park, Candlestick, Brisbane Baylands, and Sunnydale Hope SF sites. Note the T-Line dead-ends instead of showing the loop, or the possible linkage east west as a swing system connecting developments via transit.
Track links, loops, and splits, allowing a gear-shift of lines, and more flexibility in the routing of trains.
— Aaron Goodman