Saving Chinatown from… Whom?
For those who haven't heard, the Sam Wo restaurant reopened October 21st on the south side of Portsmouth Square. The force responsible is Steven Lee, a community-minded small businessman and entertainment promoter who received a phone call from the Rev. Norman Fong, head of the Chinatown Community Development Center, with the challenge, "Hey Steven, do you want to try to save Sam Wo?" Well, he's done it, with the help of other community-minded investors.
At the long-awaited reopening press conference, Lee introduced the Ho family, who had thought all was lost after the Department of Public Health closed Sam Wo's historic doors in the narrow alley space on Washington above Grant, where Mr. Ho had fed diners all day and into the wee hours (3 am) for over 30 years. His has not been the only Chinatown restaurant to suffer the fate of closure by the health department due to the aging buildings in Chinatown.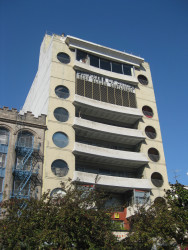 But of course, age is not the only hazard the neighborhood faces. The next speaker was Gordon Chin, recently retired director of CCDC, whose book Building Community Chinatown Style chronicles half a century of community activism to preserve Chinatown's character in the face of a host of economic and demographic threats. After joking that he would work the 9 pm to 4 am night shift at Sam Wo, Chin pointed to the Empress of China building as the next endangered community icon.
A photo In the Oct 22-28 SF Weekly shows Chin holding up marketing materials for a project at the recently-shuttered (due itself to uncertainty about the building's future) Empress' former home, 838 Grant, that portray its conversion to high-tech office space. The purported buyer is none other than Richard Blum's international real estate behemoth, CBRE. Another high-rise commercial office building has already begun construction at the corner of Pine and Kearny. The big dollar players appear to be coming for the neighborhood.
Like community groups in the Mission and other neighborhoods, CCDC, the Chinatown Progressive Association, the Chinese Chamber of Commerce, and kindred organizations have been worried about the encroachment of "tech" for some time. "If tech offices invade Chinatown buildings, there is no way our community-serving merchants can compete with them on rent," Chinese Chamber President Eddie Au said recently. "We will be driven out of Chinatown." The groups have responded by forming a coalition with Supervisors Campos and Yee to fight the incursion using a strict interpretation of zoning laws.
Unfortunately, this broad net may be sweeping up more than its intended catch. When three local women opened a coworking space called 1920C at 950 Grant earlier this year, CCDC tried to make an example of them for committing the kind of zoning violation they plan to use to keep "big tech" out, holding a scathing press conference and threatening legal action. "That model, if it takes off, will be devastating" said Planning Commissioner and CCDC Deputy Director Cindy Wu at the time.
But 1920C cofounder Jenny Chan, a onetime CCDC volunteer herself, protests that targeting her company is absurdly wide of the mark. "We're a small business, not a corporation at all," she says, likening her coworking space to similar ones that have existed in the Empress' building for many years. Moreover, "We're not a tech company by any means."
Further action has been delayed until the results of the Nov 3 election are known. Does this represent a slippery slope or a call to new thinking about a community plan for Chinatown?
— Lotus Fong, Jeff Whittington