New Wall on the Waterfront
Two new proposed luxury towers at 75 Howard Street and 160 Folsom Street across from the Embarcadero threaten to shadow Rincon Park. The Tishman-Speyer Corporation is seeking a 100- foot increase to the existing height
Proposed building at 75 Howard
limits to build a 400-foot condo tower at 160 Folsom Street. Paramount Group is seeking a 92-foot height-limit increase to build a 292-foot condo tower at 75 Howard Street.
According to the Sierra Club these projects are taking advantage of a loophole in the Proposition K Sunshine Ordinance protection. Prop K does not require the Port of San Francisco to abide by its mandate, and these two projects come under the Port's purview. The Recreation and Parks department is the only agency that has jurisdiction under the Proposition K ordinance.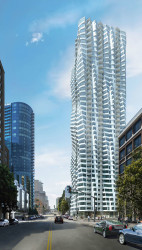 160 Folsom
The Sierra Club informs its readers in the "Sierra Club Yodeler, June-July 2015″ that neighborhood organizations and citizen groups concerned by the loophole have begun working together to protect the waterfront in an effort called "Save Rincon Park."
Please call or email Supervisor Jane Kim at (415) 554-7970 / Jane.Kim@sfgov.org, or write to her at 1 Dr. Carlton B. Goodlett Place, City Hall, Room 244, San Francisco, CA 94103-4689 . Urge Supervisor Kim to stand up for parks and our waterfront by rejecting these height-limit-increase proposals.
— Denise D'Anne