Awards Dinner is May 21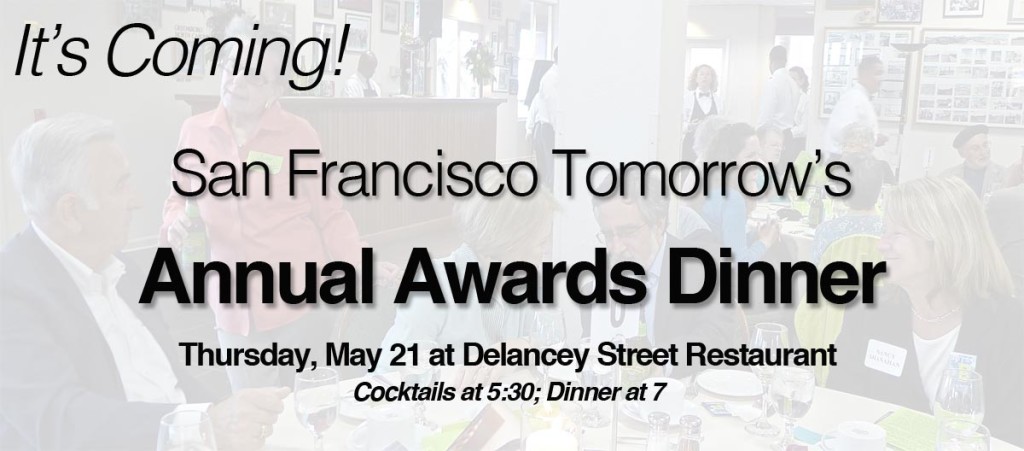 Once again, San Francisco Tomorrow is celebrating the City's progressive heroes at our Annual Awards Dinner. This year our Jack Morrison Lifetime Achievement Award honoree is Mary Anne Miller, a longtime board member and leader of both San Francisco Tomorrow and Sunset Parkside Education and Action Committee. An experienced planner, Mary Anne has been of invaluable assistance in developing San Francisco Tomorrow's positions and comments on planning documents; has served as SFT's point person on Presidio issues; and has been the keen and diligent editor of San Francisco Tomorrow's newsletter for more than 15 years.
The first of our Unsung Hero awards goes to the Plaza 16 Coalition, the face of the new progressive movement, which is fighting to preserve affordability and neighborhood character in the Mission against an onslaught of high-end development proposals.
Our second Unsung Hero Award goes to Karen Babbitt, a longtime community advocate pushing for good govenment, environmental protection, and neighborhood preservation in Noe Valley and beyond. Karen's local and City Hall advocacy sets the standard for neighborhood activism.
PATRON $120 or $150. SPONSOR $80. Dinner ticket $50.
PLEASE SEND YOUR RESERVATION to Denise D'Anne, 351 Guerrero, San Francisco 94103 or call Jennifer at 415-585-9489